"Move a little further here! Yes! This location is more suitable!" In the early morning of today (February 17), two anti-epidemic wing rooms were urgently installed at the nucleic acid sampling site in the rear parking lot of the Zhenze Town Government. Zhang Chunming, president of the District Prefabricated Construction Industry Association, and Yao Jie and Shi Aliang, the vice presidents, personally "sit in town" to direct the on-site installation work.
"In this regional nucleic acid test, a test point was set up next to our company. We bought something to express our condolences, and found that the medical staff and volunteers were shivering because of the severe cold and felt very distressed. We hurry up. Call the members of the association to discuss whether they can donate the epidemic prevention wing to the sampling point." Zhang Chunming told reporters that after learning the situation, everyone agreed and decided to install the epidemic prevention wing for some sampling points with relatively simple conditions to improve the sampling conditions.
For Zhenze color steel plate enterprises, it is very handy to deal with epidemic prevention and control. Many enterprises have participated in the construction of Leishenshan and Huoshenshan, as well as the construction of shelters in other areas. "When the epidemic occurred in other areas in the past, everyone could work overtime to rush to isolate the wing. Besides, now that the epidemic has occurred in our hometown, we should be obliged to do something for the prevention and control of the epidemic in our hometown." The chairman and vice-chairman took the lead in visiting and inspecting several sampling points, and then everyone split up to install the epidemic prevention wing with "Zhenze Speed".
Up to now, the district prefabricated construction industry association has voluntarily organized the installation of 6 epidemic prevention rooms at different sampling points, which has effectively improved the sampling conditions of these points. "In recent years, under the guidance of the Zhenze Town Party Committee and Government, our color steel plate enterprise has successfully transformed and embarked on a path of innovation and development. Enjoying the shade and not forgetting to plant trees. In such a special period, our enterprise should take the initiative to provoke feedback Social responsibility." Zhang Chunming said that he hoped to help his hometown win the battle against the epidemic as soon as possible through the unity of the whole society.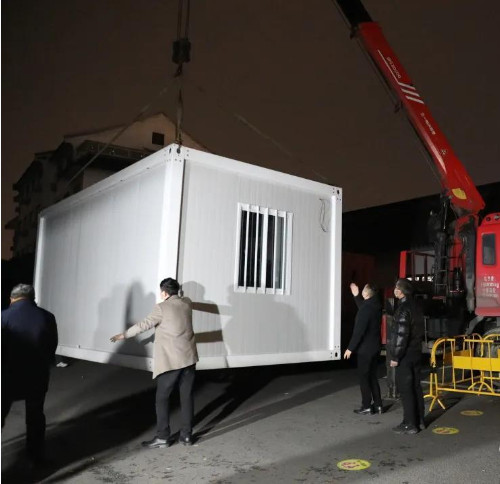 ---
Post time: Mar-29-2022